People's Park Concert 1-6 pm
West African Rhythms
People's Park, 1 - 2:25 pm
Fula Brothers is the high spirited meeting of three seasoned touring performers – each of whom has spent decades pursuing the shared heartbeat in music from around the globe. Here is a history filled with inter-continental collaborations and colorful apprenticeships, from West Africa and Scotland to Haiti and the US. Each of these cultural threads stirs a unique part of our universal human experience. Mamadou Sidibe, Walter Straus and grammy nominated Colin Douglas, weave them into a rich tapestry of sound and rhythm. The result? An ecstatic & intricate groove-based dialogue which the heart – and the feet – cannot resist.
Afro-Latin Funk
People's Park, 2:45 - 4:10 pm
Sang Matiz is an energetic and versatile band known over the last 8 years to enliven audiences with a collection of original compositions and covers which fuse World and Afro-Latin beats with contemporary rhythms such as Pop, Jazz, and Funk. They've perfected a unique combination of styles that weaves catchy, syncopated melodies with flamenco-styled finger picking. Sang Matiz takes you on a journey of cultural expression with an exciting fusion of sounds full of passion, energy, and wild creativity.
North Indian Classical
People's Park, 4:10-4:30 pm
A quartet of music teachers from The Sikh Heritage Symphony will play North Indian Classical music & song. Symphony members perform North Indian Classical Raag compositions on ancient instruments – Rabah, Dilruba, Taus, Saranda, Sarangi, Tampra, Surmandal, Tabla & Pakhawaz. Most of these instruments used in Sikh music for hundreds of years, originated more than 500 years ago. Sikh Heritage Symphony Performers are advanced students & teachers from San Jose.
Sufi Trance Groves
People's Park, 4:30 - 6:00 pm
A dynamic quartet, Baraka Moon features Sukhawat Ali Khan (Vocals, Harmonium ) charismatic and passionate vocalist drawing from Pakistani family vocal tradition with a voice that soars to the heavens. Stephen Kent (Didgeridoo, Percussion, Bass, Guitar), , is a global musical pioneer bringing the ancient aboriginal instrument to our contemporary world and summoning a deep vibratory pulse from the Earth. Anastasi Mavrides (Guitar, Bass, Bkg. Vocals) brings his unique and compelling guitar, blending shimmering chords, irresistible melodies and funky rhythms while Peter Warren (Drums) brings dynamic power to Baraka Moon's full on dance beats matched with awesome African musicians and dancers. Together, these shamanic spirits bring soulful music with a message of peace for the whole world!
World Market & Kids Zone! Noon – 6 pm
Telegraph VENUES, NOON – 8 pm
Klezmer & Balkan
Sliver Pizzeria, 2475 Telegraph, Noon - 1:30 pm
Hernandez Hideaway, Oakland's "klezmerotica sweethearts," opens up the Festival at Sliver Pizza with the irresistible party music of Eastern Europe. Their original music is based on traditional Balkan and Jewish melodies.
Balkan beats, Klezmer stylings and theatre define the music of this merry troupe. With saucy vocals (Lucie Duffort), soprano saxophone & flute (Claire Phillips), trombone (Sam Hernandez), accordion (Tim Phillips): and bass (Dan Harrison) the music is of surprises.. Playing the Bay and beyond since 2009. band members hail from California, England, and Japan, but come together over a love for that sweet spot where traditional meets modern.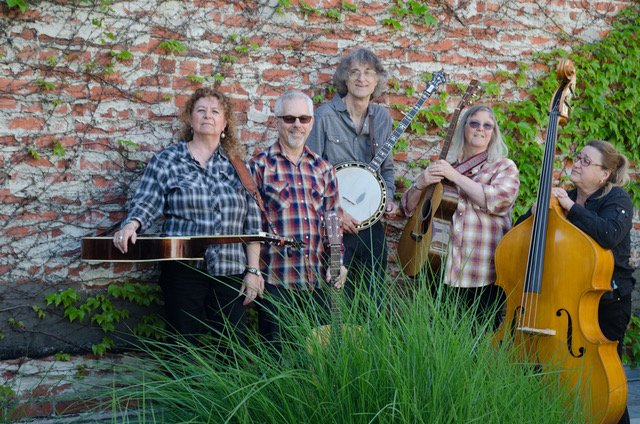 Traditional Music & Song
Berkeley Hat Company, 2510 Telegraph 1:30 - 2:00 pm & 2:30 - 4 pm
The Harlan James Bluegrass Band deliver the back-country music which folks have played on their porches for generations. What sets this band apart is that they are all singers obsessed with bluegrass singing styles - the classic tight-stacked trio, the full-bodied gospel quartet, & the high-lonesome duet, complete with a keening tenor. They find inspiration in down-to-earth melodies and the drive, and tension of bluegrass sound. You'll hear richly textured melodies from award winning song-writer Maureen (Mo) Blumenthal (banjo, guitar), Linda Juratovac (resophonic guitar), Jacob Ofman (guitar), Michael Thilgen (banjo) and Kelly Trojan (upright bass).
Swing & World Folk
Raleigh's Pub, 2438 Telegraph, 6 - 8 pm
French Oak Gypsy Band gives a fresh spin on French and American Swing Era classics. With repertoire derived greatly from French Chanson, Gypsy Jazz, Dixieland Jazz, they also play with Traditional World Folk music, and Modern tunes from around the world. North Bay Native and vocalist, Stella Heath, and French/American guitar player, Gabriel Pirard, lead this group of gypsies in their undeniable fun performances. Reed player, James Inciardi, rounds out the group. With their French-inspired sound, spotlighting Heath's magnetic vocals and the band's tight rhythms they'll transport you straight into the bygone era of swing.
Arabic Classical to Contemporary
Café Milano, 2522 Bancroft, 6-8 pm
Georges Lammam, of Palestinian descent, born in Beirut, is well-known in the Middle East and the US as a solo violinist exemplifying the Arab style of instrumental improvisation & lyricism. In addition to frequently touring across the globe, he has composed scores for numerous films. Joining him are three superb artists. Susu Pampanin, a world-renowned percussionist specializing in Egyptian Classical and Middle-Eastern styles, is one of the few female Middle Eastern drummers highly respected by the Arabic professional music community. Guitar virtuoso Richard Michos has recorded several CD's with Georges. Khader Keileh on Arabic keyboards rounds out this exciting and passionate band. The Georges Lammam Ensemble has performed at the SF World Music Festival, The Legion of Honor Museum, the De Young Museum, & many more local & national venues and toured with the Arabic orchestra representing the Golden Age of Arab Music, presented in association with the John F. Kennedy Center for the Performing arts.
Michael Masley, aka "The Artist General"
Slide-Hammer Autoharp
SATURDAY: 2454 Telegraph at Haste, - 2 pm on &
SUNDAY: on Channing Ave, next to The Bird, 2400 Telegraph - 2 pm on
If you follow celestial sounds of music wafting through the air, you'll likely find local street musician treasure, Michael Masley. He is a unique American composer, instrumentalist, & inventor of musical instruments. You can hear & see his sonic inventions on youtube "COLLATERAL TIMBRE Tools of Engagement".
This "Beethoven" of the streets, creates sounds that are full of harmonic resonances & tones expanding & rippling over each other. This music is soothing and creates wonder. It is defined by unusually complex textures.The most famous instrument in his menagerie of musical inventions is the "bowhammer cymbalom". The Slide-Hammer Autoharp is his new muse. It is derived from the autoharp, where one depresses a button which dampens all the strings except for chords which the player strums. Michael multiplies sounds & rhythms by sliding a metal bar over the strings which stretches tones, and by plucking strings. More at: https://www.artistgeneral.com/
Sunday STREETS + INDOOR EveNing Shows, June 2
English Traditional Folk Dancers
Telegraph & Haste, Noon - 12:30 pm
Berkeley Morris brings pageantry to Telegraph Ave. Wearing scarves, swords, medieval costume & HORNS ON THEIR HEADS, they are a dance team, performing in the traditional English Cotswold Morris style, with a dash of Border & a hearty dose of contemporary innovation. Don't miss this opportunity to look back into a vibrant & fascinating medieval legacy!
Morris dancing is a living tradition, linking pastoral communities of long ago with the cities, towns, & extended communities we live in today. Morris dancing has its origins in Sumerian & Greek circle dances performed to celebrate harvests. It's also descended from the morisco, or mock battles between Christians & Moors performed in 12th Century Spain. The Horn Dance of Abbotts Bromley dates back to at least the late-12th century. . Shakespeare made reference to morris dancing in his plays & Will Kemp, upon being sacked from Shakespeare's company, danced 125 miles from London to Norwich as a publicity stunt.
Klezmer
2510 Telegraph / just south of Dwight, 1 - 4 pm
The Simcha Trio are an established part of the Bay Area jazz & folk music scene. For this performance they will mainly play Klezmer - the celebratory music, rooted in Eastern European Jewish culture. Yiddish speaking Jews first brought Klezmer to America in the late 1800's and early 1900's where this music continues to develop. Though the Klezmer brass sound remains distinct, its complex rhythms and vigorous riffs did contribute to the big dance sound of the 30s.
Band leader, Eliot Kenin on guitar, is a talented composer, singer & multi-instrumentalist. He is also band leader for Spirit of '29, (Dixieland) & the Reinhardt Swing Band."Fiddle Ray" Landsberg, has been a mainstay in Bay Area traditional jazz and klezmer music for years. He can be often seen with the San Francisco Starlight Orchestra. Joe Sosensky (clarinet) has been playing together with Eliot for years is also a core of Spirit of '29.
Cajun / Zydeco
2454 Telegraph, 12:30 - 3:30 pm
Bayou Noir plays danceable Cajun & Zydeco, favoring traditional Louisiana 2-steps & waltzes. Their Cajun music inspires smiles & foot tapping in all ages. Adding to the fun the audience will be invited to play along on guest percussion instruments including washboards. Great fun for children.
Bayou Noir includes long-term music veterans & members of the Bay Area's Cajun and Zydeco musical community. Dwight Shackelford, (Cajun Accordion, Vocals) fronts Bayou Noir. Bayou Noir is the "back porch" version of his electrified Les Amis Zydeco 4-piece band. Originally from deep bayou Houma, LA., Dwight honed his chops on Louisiana music in the vibrant Bay Area. His years as a dancer influence his choice of songs. He will play the classics of Cajun & Old School Zydeco and some originals. Joining Dwight are band members Ron Augustinsky (guitar, fiddle, vocals) & Kevin Dillon (percussion).

Afro-Puerto Rican Dance Music
2454 Telegraph at Haste, 4:30-6:00 pm
Puerto Rican percussionist/composer/educator Héctor Lugo founded La Mixta Criolla, a dynamic music and dance ensemble with deep roots in the criollo/creole culture of Puerto Rico and the Latin Caribbean. No group has done more to bring the island's verdant culture to Bay Area stages in recent years than La Mixta Criolla. Featuring Camilo Landau on the ten string cuatro, bassist Ayla Dávila, percussionists Javier Navarrette (congas & timbal) and Roman Ito Carrillo (bongó, barril & pandero), & Héctor Lugo (congas, barril, pandero & güícharo) and all on vocals, the band delves into an irresistible array of rhythmic traditions, including plena, bomba, aguinaldo, guaracha jíbara, merengue, son, & cumbia.
"From its inception" Lugo relates, "we were interested in developing original material - inspired in the folklore & popular music" of the criollo culture of Puerto Rico and the Latin Caribbean - "as a way to explore (and share) the richness and diversity of our musical culture."
Harlan James Bluegrass Band
Traditional Music & Song
2321 Telegraph Avenue, b/t Bancroft Way & Durant Ave , 12:30 – 1 pm and 1:30 - 2 pm
The Harlan James Bluegrass Band deliver the back-country music which folks have played on their porches for generations. What sets this band apart is that they are all singers obsessed with bluegrass singing styles - the classic tight-stacked trio, the full-bodied gospel quartet, & the high-lonesome duet, complete with a keening tenor. They find inspiration in down-to-earth melodies and the drive, and tension of bluegrass sound. You'll hear richly textured melodies from award winning song-writer Maureen (Mo) Blumenthal (banjo, guitar), Linda Juratovac (resophonic guitar), Jacob Ofman (guitar), Michael Thilgen (banjo) and Kelly Trojan (upright bass).
Ragas on Touchstyle Veena
3-5 pm
Bollywood Gharana's Teed Rockwell has created new music combining classical ragas with Bollywood film music on the touchstyle veena. The veena has a guitar-like fretboard played by tapping strings with both hands. Many Indians say hearing ragas played on the touchstyle veena gave them a greater appreciation of their own traditional music. The result is an infectious groove, in a captivating mix of genres with its own stylish and crowd-pleasing sound.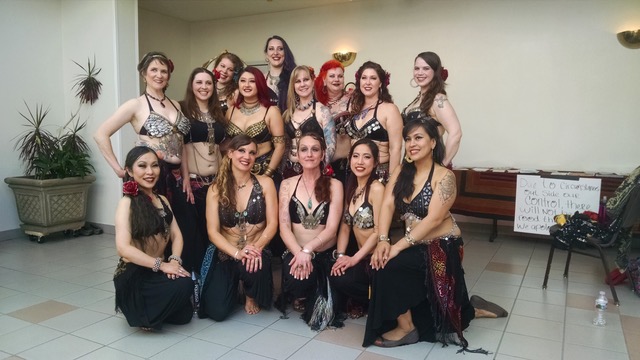 Lunascope & Elizabeth Strong
Folkloric Fusion Belly Dance
2311 Telegraph Ave, b/t Durant & Bancroft, 2 – 3 pm
Lunascope is a Berkeley based troupe of students & professional level dancers who enjoy performing traditional tribal belly dance, folkloric dances & also mashing up styles, as long as the music is good! Lunascope is open to those who attend Thursday Berkeley classes with Elizabeth Strong.
Elizabeth Strong is a SF Bay Area dancer, choreographer & teacher who focuses on the integrity & spirit of traditional dance forms within a contemporary framework. Elizabeth's toured with Bellydance Superstars, & is a founding member of Bellydance Evolution & of Beats Antique's dance company with Zoe Jakes. A former principal member of Katarina Burda's Aywah! Ethnic Dance Co., she traveled to Egypt, Turkey, Tunisia, Morocco, Greece & Bulgaria to study at the source. Now considered one of the leading experts in the field, she dances internationally & with top local acts as Kugelplex, MWE, Brass Menazeri & Fishtank Ensemble + renowned musicians as Faisal Zeidan & Rumen Sali Shopov. She's had original choreographies commissioned by Jill Parker & Jillina Carlano, released an instructional DVD, & received grants from Zellerbach Foundation & from Bill Graham Presents Foundation. More at www.strongdancer.com
New Balkan Music
2311 Telegraph Ave, b/t Durant & Bancroft, 2 – 3 pm
Dan Cantrell & Friends performance will include choreographed music for Elizabeth Strong & Lunascope's interpretive belly dancing. Hauntingly beautiful…quirky and energetic" says the San Francisco Bay Guardian. Cantrell is an Emmy award winning composer and multi-instrumentalist known for his innovative film scoring approach, and his virtuosic abilities on the accordion, piano and musical saw. Together he & his band weaves the traditions of Eastern Europe, early American Jazz, early film scores and modern alternative rock in to a unique and captivating sound. They span a wide range of emotion and style. Hauntingly beautiful…quirky and energetic" says the San Francisco Bay Guardian.
Dance Party Finale!
La Mandanga
Spanish Rumba
Tap Haus, 2516 Durant Ave, 6-8 pm
''Directly from Spain, and perfectly blended with the greatest musicians in the area we have reached a unique sound, we offer you a really original and danceable show, full of energy and good vibrations''. Founded by Alberto Gutiérrez (vocals and guitar) & Javier Jiménez (lead guitar and vocals); Luis Jiménez (cajón), Joe Nemzer (bass), Vincent De Jesus (Congas)and Jacob Savage (trumpet) complete the group. With half of the band, natives from Madrid, La Mandanga does deliver the the authentic music of Spain's fast paced guitar and vocals.
Heavy Zen Shakuhachi Flute at
Moe's Book 2476 Telegraph, 6-7 pm
Cornelius Boots is a master of lost techniques & a licensed shihan in the dynamic Zen shakuhachi lineage of Watazumido. His breath-defying compositions weave together threads from rock, blues, heavy metal & the traditional Zen repertoire, honkyoku. He was a 2018 finalist in the World Shakuhachi Competition, a featured performer for Sony PlayStation's E3 press conference (LA) & a featured performer/lecturer at both the World Bamboo Congress (Xalapa, Mexico) & the World Shakuhachi Festival (London). Boots' experience as a jazz saxophonist, orchestral clarinetist, funk bandleader & founder/composer of the renowned bass clarinet quartet Edmund Welles have made him a sought after composer & collaborator. With his latest albums series, the Shakuhachi Unleashed —Holy Flute (2017), Bamboo Rising (2018), & Sacred Root (2019)—Cornelius continues to develop "bamboo gospel," a robust, cross-cultural, polystylistic solo style for Jinashi & wide-bore (bass/Taimu) shakuhachi—the rare, difficult, end-blown, root-end bamboo flute of Japanese Zen Buddhism.